We have acquired Vidum Systems AS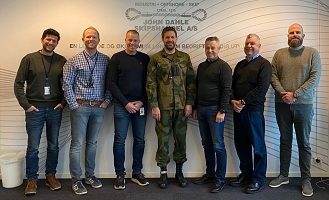 This spring we had the opportunity to buy Vidum Systems AS, we have since taken over the operation under good guidance from Ragnar Vidum. At the end of this year, Vidum System AS will be merged into John Dahle Skipshandel AS. Through the acquisition, we will continue the many years of work that Vidum Systems AS has put in for its customers. In addition, we will be able to offer them access to an even larger product range.
This autumn, we entered into a framework agreement with the Armed Forces on cargo securing, and are looking forward to a good cooperation. We have hired Nicolai Hardy who will be the Armed Forces' primary contact in Sandefjord.
About Vidum Systems AS
Vidum Systems AS has actively participated in the development of systems, products and new solutions within securing cargo, lifting operations and work at height for the Armed Forces, the Defense Industry, Offshore and the Transport Sector. Quality is a fundamental principle for all products and services that Vidum Systems AS has delivered. Their customer relationships have been based on mutual trust for a long-term customer relationship.
Vidum Systems AS is a company that offers expertise in:
Lifting

Development and documentation of lifting equipment

Consultant, courses and training

Load securing

Development and documentation of load securing equipment

Development and documentation of load securing methods

Consultant, courses and training

Fallprotection

Consultant, courses and training